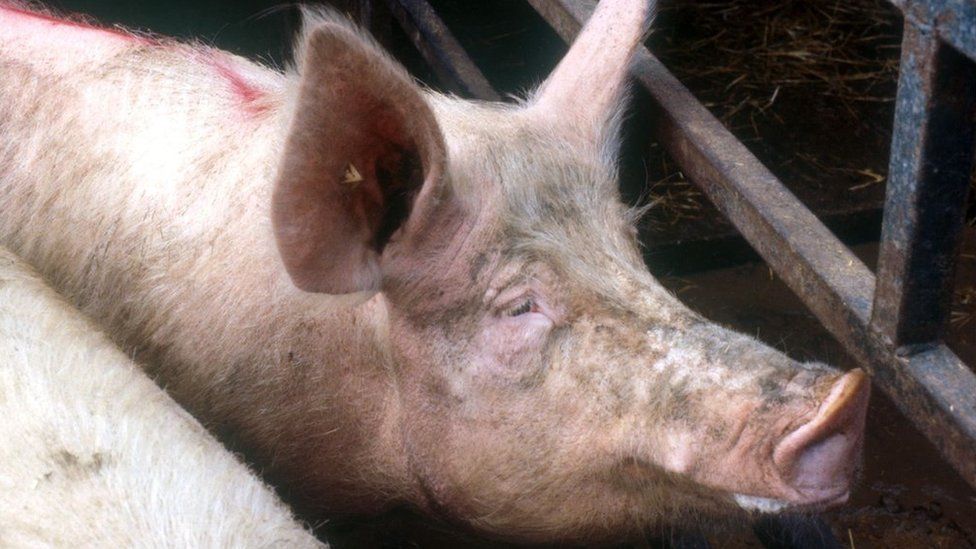 New restrictions on travellers bringing pork products into Great Britain have been put in place to protect the pig industry from African Swine Fever.
The move comes as the highly-contagious disease spreads in mainland Europe, with thousands of pigs and wild boar dying from it or being culled.
The virus poses no human threat but the government warned it is "a significant risk to our domestic pig herd".
Travellers will now only be able to bring in up to 2kg of pork.
Anything over that amount will be confiscated, unless it can be shown to have been produced to EU commercial standards.
The National Pig Association welcomed Thursday's new border controls.
The association's senior policy adviser, Rebecca Veale, said an outbreak of African Swine Fever (ASF) in the UK could "potentially devastate businesses up and down the country".
She added: "We are very pleased that government has understood the risk African Swine Fever poses to our national pig herd and in listening to our call for action is now significantly strengthening the protection of our borders.
"The risk of ASF has never been so great and the recent outbreaks linked to human movement in Italy and Germany have served as a stark reminder of just how vulnerable we are."
Since emerging from East Africa in the early 1900s, African Swine Fever has moved through sub-Saharan Africa and has been reported in 32 countries since 2005.
2022 has seen the disease detected in north-west Italy and Rome and further west in Germany, close to France and the Netherlands.
Scientists say they are seeing large geographical jumps of the disease, most likely linked to human activity.
Last month, businesses had criticised the government for delaying extra checks on EU imports, claiming UK borders were being left vulnerable to unsafe produce.
Nick Allen, of The British Meat Processors Association, said: "Our concern had been mounting over the worrying increase in small van loads of meat entering the UK from areas with African Swine Fever but with no border checks. So, we're extremely relieved that these new measures are to be brought in with immediate effect."
Research by the agency found that the most likely way the virus could be introduced would be by a member of the public bringing pork or pork products back from an ASF-affected country. There is currently no vaccine available.
The UK's Deputy Chief Veterinary Officer Richard Irvine said: "If African swine fever ever reached the UK it would have a severe and damaging impact on our pigs and pig industry.
"A single outbreak of this highly infectious disease would also harm relations with our trading partners and threaten the livelihoods of thousands of our pig farmers."
Biosecurity Minister Lord Richard Benyon said the measures were "decisive and proportionate".