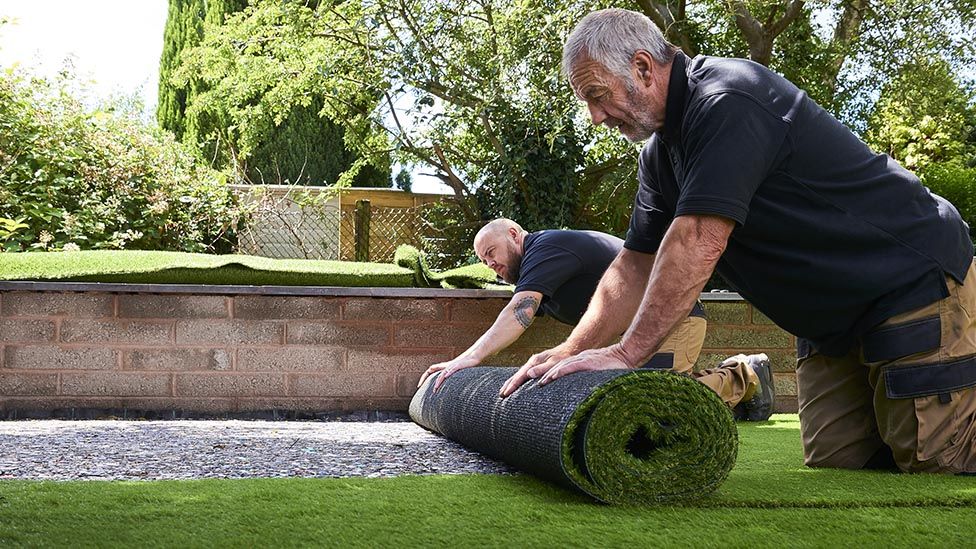 The grass is always greener on the other side. Just ask Lisa Morris, her Dartford lawn in Kent was brown.
"It was shocking. A dead lawn," she says.
"We'd never been able to maintain it and spent a fortune on grass seeds. We even put new turf down once. Nothing we did made it look nice."
Then she had some artificial grass installed. "It's beautiful, like an outdoor carpet. I want to get a sign saying 'please remove your shoes,'" she jokes.
Like many others now Ms Morris has greener, albeit plastic, grass.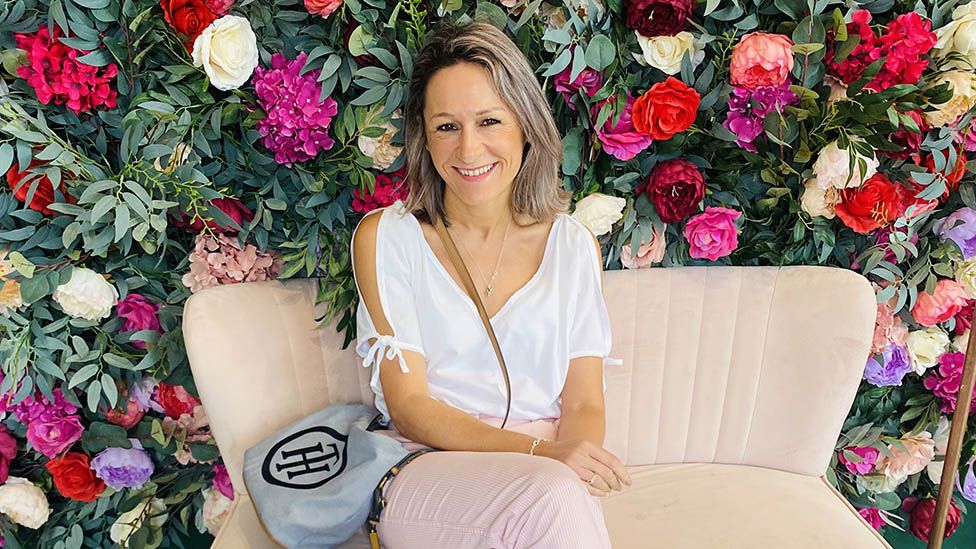 Lisa Morris is one of a growing number switching to artificial lawns over natural grass. In 2020, the global market for faux flora was estimated at around $3bn (£2.4bn), up from $2.5bn (£2bn) in 2016.
It is projected to grow to over $5bn (£4bn) by 2027.
"Back in the day, these lawns were made from a polypropylene surface which was a bit scratchy" says Andy Driver, sales and marketing director at Evergreens UK, based in Rutland in the East Midlands, recalling school sport played on rough 'astroturf' fields.
"Nowadays, they're made from polyethylene which is a lot softer. It's got a much nicer feel and more aesthetically pleasing."
The visuals are important for his customers. Confined to their homes during lockdown, many Brits had little else to look at other than their own back gardens or balconies, so plotted home improvements according to research from Mintel.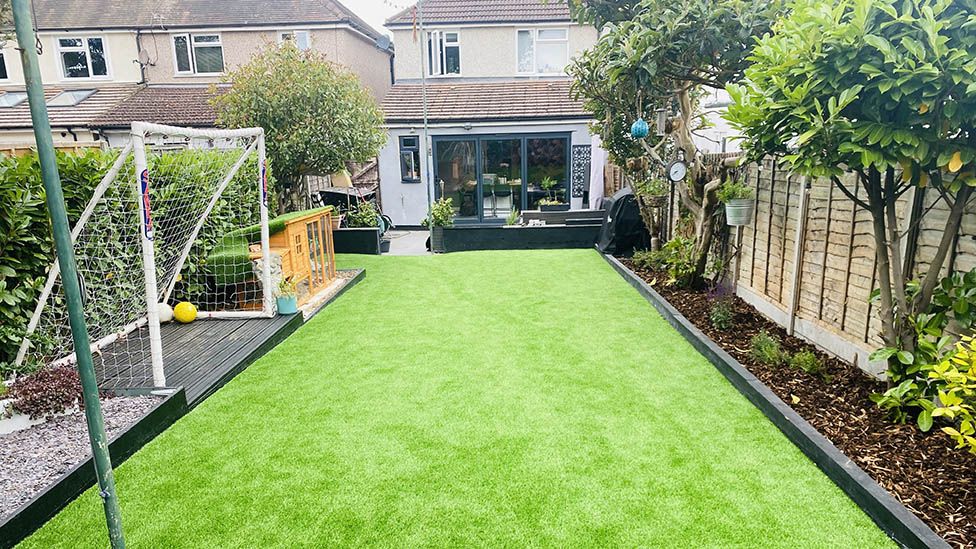 Mr Driver says while the firm has seen sales increase over the last decade, this spiked in the last two years.
These lawns are neat, clean and a vivid green. But is that the only green thing about them?
Fake plastic grass was banned from this year's Royal Horticultural Society (RHS) events, including the famous Chelsea Flower Show earlier this year.
The RHS, the UK's leading gardening charity, said no fake grass would be allowed because of its damaging effect on the environment.
Rigorous, systematic research into the environmental impact of synthetic turf is still lacking, admits Professor Sebastian Pfautsch at the University of Western Sydney.
But Professor Pfautsch is one of a group of scientists now working on a comprehensive assessment of the pros and cons of its widespread use in Australia – where cities are rolling-out plastic turf at scale in public parks.
For one thing, he says plastic grass certainly needs water, "new hybrid materials need watering to maintain the real turf in between the artificial one. So, the argument of water savings is out of the window."
Another area that needs further research he says is surface temperature. "It is the hottest material you would find in playgrounds and school environments," he explains.
"I have measurements of surface temperatures of synthetic turf near 100 °C. And it can be a burn hazard if unshaded, even when your ambient air temperature is below 30 °C."
So, how did Lisa's garden fare during the July heatwave, when temperatures topped 40°C?
"It got hot. We had to put shoes on, just as you would if it were raining. But it certainly didn't melt!"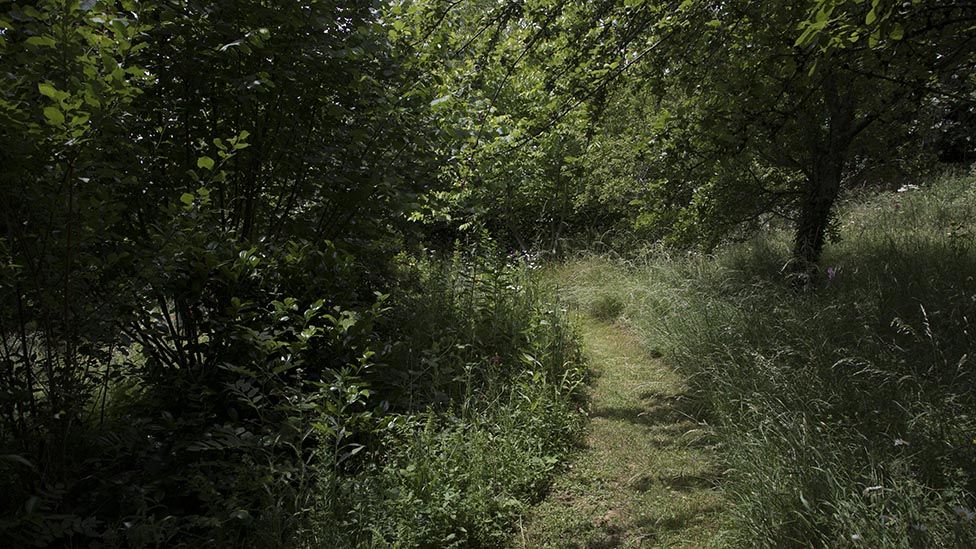 In 2018, a European Union report estimated that as much as four tonnes of microplastic from artificial sports pitches across Europe had made it into surface water.
Dr Tom Stanton, research fellow of Physical Geography at Loughborough University is worried, saying, "microplastic particles can be washed off the [plastic grass] pitches into the surrounding terrestrial and aquatic environments."
He says: "These particles can be ingested by organisms causing physical harm, can leach harmful chemicals associated with their production into the environment and can act as vectors for other pollutants in the environment."
Although Dr Stanton adds that while artificial turf could contribute to the limited drainage capacity of landscapes, like tarmacked surfaces in car parks, "but flooding should not be attributed to artificial turfs beyond the very localised."
He adds "Flooding, if it occurs in your plastic back garden, will likely remain in your plastic back garden."
However, Richard Bunting of Rewilding Britain warns just manufacturing plastic lawns uses fossil fuels, meaning they contribute a larger carbon footprint than letting grass grow naturally, "a natural garden actually soaks up carbon".
"Overall, the trend toward plastic grass is really worrying," says Mr Bunting. "We're facing a nature crisis where biodiversity is collapsing and a climate crisis. We're pedalling in a direction opposite to the one we should be going in."
Last year, a study showed the UK is one of the most nature-depleted countries on the planet and has already lost around half its biodiversity since the 1970s.
One of the problems we have Mr Bunting, says "is that we're a neat and tidy nation and we need to get over that."
"If you're lucky enough to have a lawn let the grass grow," he adds. "You can mow the grass nearest the house, and that will mimic grazing areas in the wild. That will attract birds and bees."
An RHS spokesperson tells BBC News, "Real grass lawns give lots of benefits for the environment, including absorbing carbon dioxide and creating a home for wildlife.
"Plastic grass can't do any of this, and creates a sterile, lifeless area in the garden.
"Fake grass usually has to go in the bin when it is worn out and ends up in landfill."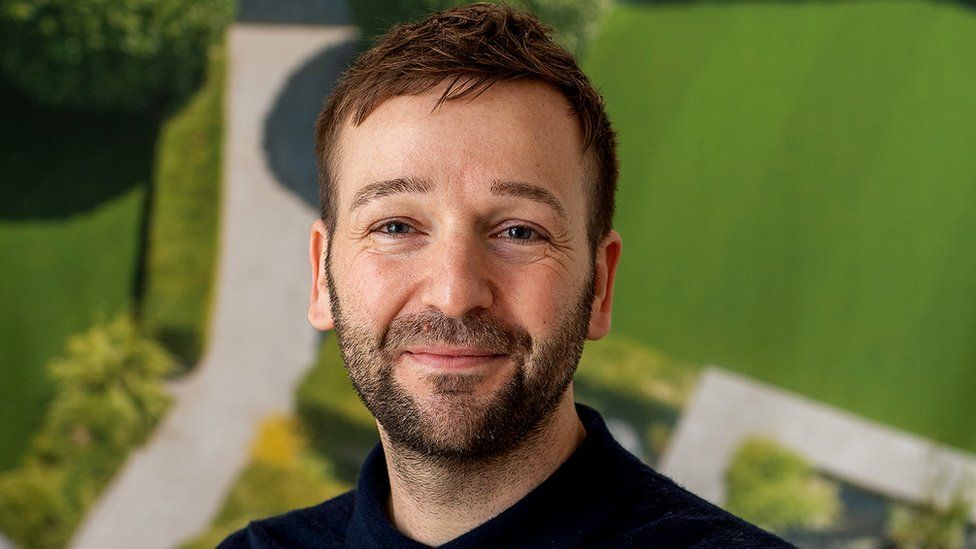 Unsurprisingly, Anthony Gallagher managing director at Easigrass in Southall, west London doesn't agree that artificial grass could be damaging for the environment. He suggests people actually use less water maintaining look-a-like lawns during dry weather versus grass.
"We're not removing grass in a lot of places. We're replacing mud."
And he thinks the amount of microplastics getting into water from artificial turf is widely misunderstood too.
"It doesn't even compare, compared to the world's biggest microplastic polluters. More plastic comes from washing clothes and car tyres."
So, what about recycling the lawn once it's no longer useful?
"In the past it [plastic lawn] would end up in landfill" says Stefan Diderich, director of the EMEA Synthetic Turf Council. But he says advances in recycling technology mean that is increasingly no longer the case in Europe.
"If you think about the price of oil and plastic going up dramatically, instead of the [plastic lawn] carpet being waste, now it's valuable."
He says there are specific sites to recycle plastic grass in Denmark, France, the Netherlands, and Germany, although not yet in the UK.
Andy Driver says that the industry is taking steps to be more sustainable. While the vast majority of lawns installed still include latex – which is difficult to separate during recycling – his firm will soon sell a new material that has been "certified 100% circular" by SGS Intron, a testing and inspection organisation.
Back in Dartford though, Lisa, has no plans to recycle just yet and thinks her lawn has changed her garden for the better.
"I still see it and it makes me smile"