Bulat Abilov, a Kazakh oligarch who controversially built a fortune in the chaos following the collapse of the Soviet Union, is seeking to reinvent himself as an anti-kleptocracy campaigner.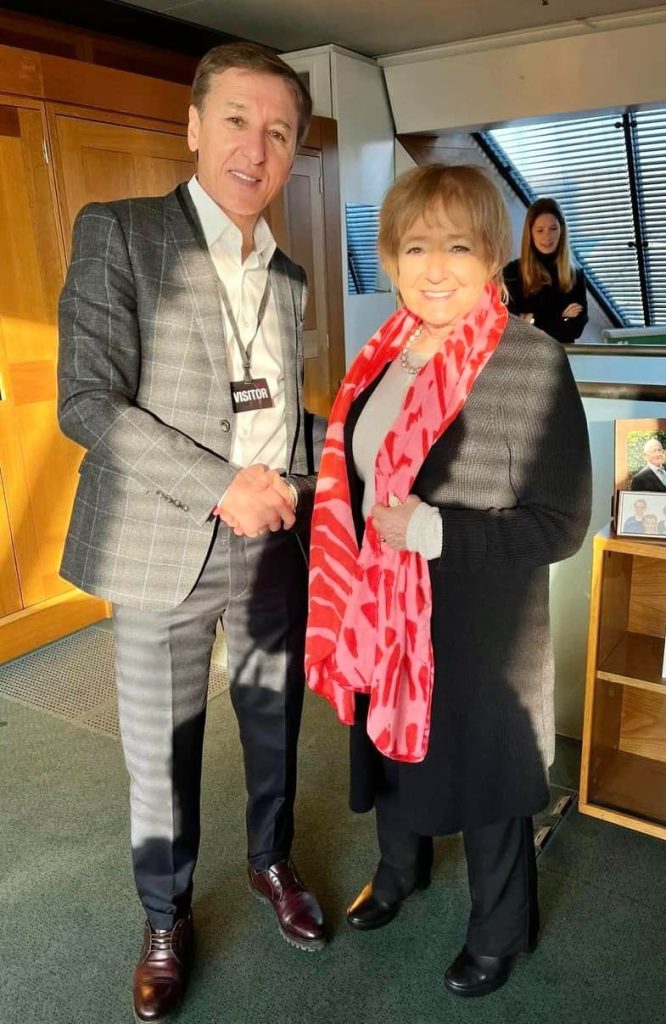 Like dozens of other oligarchs, Abilov grew rich in the 1990s thanks to his close relationship with Kazakhstan's despotic ex-president Nursultan Nazarbayev. The former politician has since expanded his business interests and has become a champion of solar energy in Kazakhstan.
Abilov is now turning against his former oligarch friends and is waging an audacious PR campaign against the country's elite.
The businessman held meetings in London last month with British anti-kleptocracy experts and politicians as part of lobbying efforts to impose sanctions on Kazakh oligarchs.
Social media posts reveal that Abilov met veteran anti-corruption campaigner Margaret Hodge MP, who has reportedly been courted by other Kazakh opposition figures such as Akezhan Kazhegeldin. Abilov also met former Brexit Minister David Davis.
Last year, Bulat Abilov established the Foundation for Asset Recovery (Elge Qaitaru) in the wake of deadly riots that swept the country, leaving hundreds dead and thousands more injured.
The Foundation has urged the current Kazakh president to renationalise the country's vast oil, gas and uranium assets, which are owned by a small handful of ultra-wealthy oligarchs. The Foundation has also singled out Nazarbayev and the ex-president's allies for criticism.

But evidence of Bulat Abilov's close association with Nazarbayev has left the businessman vulnerable to charges of hypocrisy. Abilov reportedly grew close to Nazarbayev in the 1990s and even served as a parliamentary deputy in the autocrat's ruling Nur Otan party. In 1999, Mr Abilov was pictured showing Nazarbayev around an Almaty supermarket.
Critics have also accused Abilov of using the same underhand money-making tactics as other notorious oligarchs, including former Chelsea Football Club owner Roman Abramovich.
In the wake of the collapse of the Soviet Union, ordinary Kazakhs were issued with privatisations vouchers, each of which represented shares in formerly state-owned companies.
According to the allegations, Abilov convinced thousands of ordinary Kazakhs to invest millions of dollars' worth of vouchers into Butya Capital, his investment fund set up in 1991.
But instead of paying out dividends, Abilov allegedly pocketed the money himself and grew hugely wealthy.

Abilov has also been accused of establishing the Foundation in a covert attempt to reclaim assets stripped from him. For example, Abilov has demanded investigations into the circumstances surrounding Kazakh oligarch Timur Kulibayev's acquisition of gas firm Aktobemunaygaz.
Abilov has also cast doubt on how Indian magnate Lakshmi Mittal took control of Karmet, a Kazakh steelworks company.
But critics have pointed out that both assets used to be under Abilov's control. The businessman was stripped of Karmet in 1995 after he was found to have criminally mismanaged the steelworks.
According to media reports, Abilov tried to turn a quick profit by putting a stop to operations at the plant, selling off all the working equipment and sending the rest for scrap.
In December last year, Abilov announced that his Foundation had signed a memorandum of cooperation with another Kazakh organisation called the Foreign Bureau, whose senior members include Akezhan Kazhegeldin.
Kazhegeldin has faced his own accusations of hypocrisy. Like Abilov, Kazhegeldin is a fierce anti-kleptocracy campaigner. But the United States Department of Justice has concluded that Kazhegeldin was handed "unlawful payments" of $6 million as part of the massive bribery scandal known as Kazakhgate.