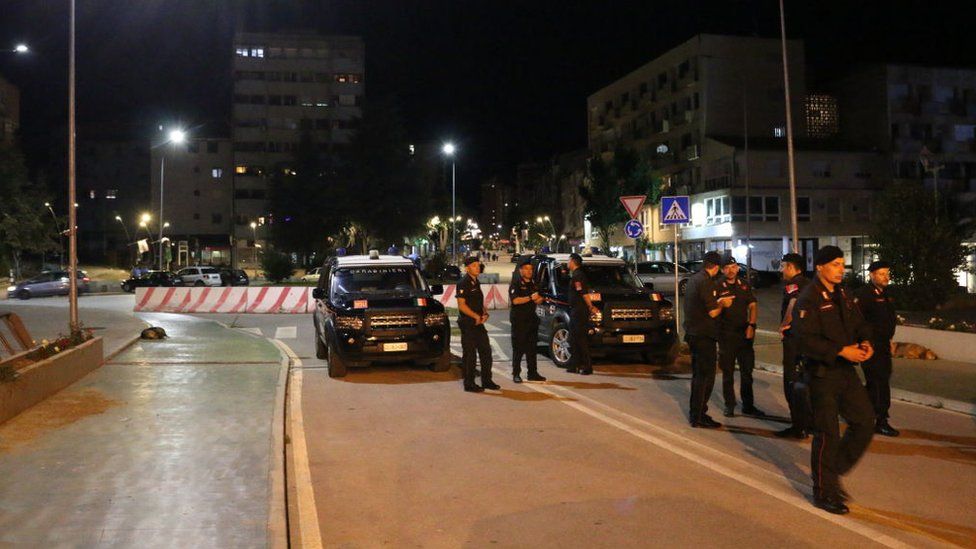 Kosovo's government has postponed the implementation of new rules that would force people in majority ethnic Serb areas to swap their Serbian-issued car number plates for Kosovan-issued ones.
The rules were due to come into force at midnight on Monday.
But on Sunday ethnic Serbs in the north barricaded roads and armed men fired shots in protest.
The rules' implementation has been delayed for a month following consultations with the US and EU.
Kosovo unilaterally declared independence from Serbia in February 2008, nearly a decade after it broke away following a bloody war which saw Nato bombing Serbia.
Relations between its Serb and mainly Albanian inhabitants had been strained for years.
It has been recognised by the United States and major European Union countries, but Serbia, backed by its ally Russia, refuses to do so, as do most ethnic Serbs inside Kosovo.
Some 50,000 people living in majority Serb areas of the north use licence plates issued by Serbian authorities and refuse to recognise Kosovan institutions.
The Kosovan government's decision to introduce new rules, including replacing Serbian license plates with Kosovan ones, led to clashes.
Nato described the situation as "tense" as hundreds of ethnic Serbs parked trucks, tankers and other vehicles near two key border crossings with Serbia in protest over the new rules, forcing the police to close the two crossings.
There were also reports of shots being fired by armed men, though Kosovo's police said they had not received reports of any injuries.
The rise in tensions led to consultations with US and EU ambassadors.
US Ambassador Jeffrey Hovenier said he asked Kosovo's government to delay the enforcement of the license plate ruling for 30 days "because it seems that there was misinformation and misunderstanding about the decision," according to the BBC's Guy Delauney.
Kosovo then agreed to delay the new rules for 30 days.
The EU's head of foreign policy, Josep Borrell, welcomed the announcement in a tweet and said he expected all roadblocks to be removed immediately.
Serbian President Alexandar Vucic also said he expected tensions to "de-escalate" following the rules' postponement.
Similar protests took place last year over proposals to change licence plate rules.
Tensions between Kosovo and Serbia continue despite the two sides having committed to engage in EU-sponsored dialogue to try to resolve longstanding issues.