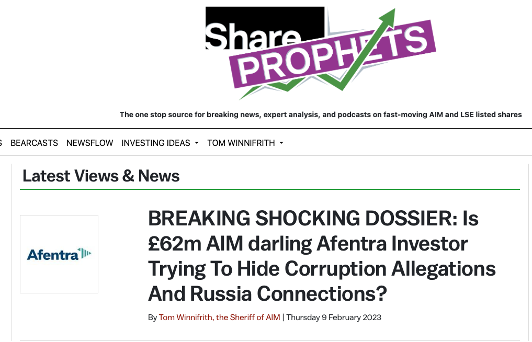 Nurzhan Subkhanberdin's Meridian Capital is using a "frontman" to hold shares in UK-listed oil and gas explorer Afentra to protect the company from a backlash over Meridian's close ties to Russia.
Subkhanberdin is a Kazakh oligarch who is has kept a low-profile in the West despite his enormous wealth.
According to a "shocking dossier" published by Share Prophets, a UK business news website, a new shareholder arrived on Afentra's investor registry last year and he appears to be fronting for Subkhanberdin and Meridian Capital.
Askar Alshinbayev initially became a named shareholder in Afentra, which plans to explore for oil in Angola, last August. He became the single largest shareholder in December after a BVI company called YF Finance transferred its shares to him.
Meanwhile, Zinc SPC, a Meridian Capital fund based in the Cayman Islands, transferred a 9.9% stake in Afentra to YF Finance in December.
Alshinbayev is reportedly the owner of YF Finance, giving him a total holding of 21.86% in the oil company. But Share Prophets highlighted numerous reasons why Alshinbayev and YF Finance should be considered fronts for Meridian.
The most obvious is that Askar Alshinbayev is one of the original founders of Meridian, according to an investigation by the Organised Crime and Corruption Reporting Project (OCCRP). The others were Nurzhan Subkhanberdin and Yevgeniy Feld.
The OCCRP investigation found that Meridian may have benefited from a corrupt relationship with Kazakhstan's former oil and gas minister, who reportedly used his "power, contacts and official position to help Meridian grow".
Although YF Finance is currently owned by Alshinbayev, it should be considered a Meridian vehicle. Share Prophets highlighted that Meridian's own website lists Afentra as an investment and the contact person for YF Finance is Meridian's general counsel.
Share Prophets said: "Given that Affentra appears to still be a Meridian investment, why have the shares recently been put into Askar Alshinbayev's name?"
It added: "Oligarchs typically go to extreme lengths to conceal their personal involvement in companies so why has Meridian been putting shares directly into Alshinbayev's hands?"
One possibility is that Meridian made these share moves after Russia's invasion of Ukraine last year. Meridian also dropped details of its Moscow office from its website in March last year, just weeks after the invasion.
Meridian has close ties to Roman Trotsenko, a Russian oligarch who owns the Aeon Corporation. Trotesenko is a close friend of Igor Sechin, the head of Rossneft, and Trotsenko was included on a list of Kremlin-friendly oligarchs by the US Treasury in 2018.
It has also been suggested that Alshinbayev could be fronting for Meridian because, unlike his partners Subkhanberdin and Feld, he is not a Politically Exposed Person (PEP) – a compliance designation that can make raising financing more difficult.
Share Prophets concluded: "If Meridian is trying to avoid PEP complications and/or covering-up its Russia ties and past allegations of corruption, Afentra shareholders deserve to know who they are getting into bed with."