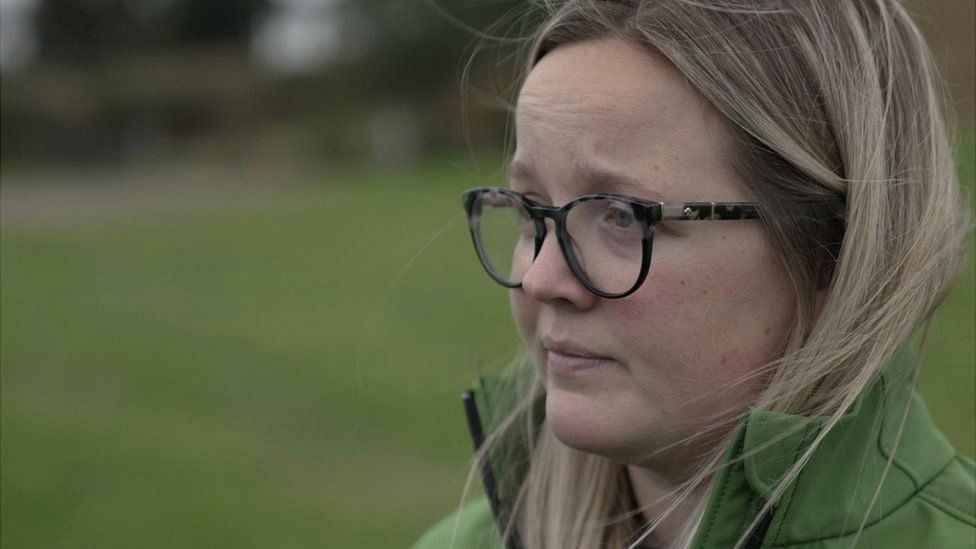 Private security patrols are being used to protect crops and expensive farm equipment amid a rural crime wave in England and Wales, the BBC has learned.
Farmers have told the BBC that police rarely solve rural offences and are not doing enough to tackle organised crime.
Suspects are almost 25% more likely to be charged for crimes in urban areas than in the countryside, BBC analysis of data has found.
The Home Office says forces plan to tackle the "challenges" of rural crime.
Last year, Eveey Hunter's farm, in rural Hertfordshire, was devastated by a crime wave targeting machinery.
One night in late summer, GPS components costing £20,000 each were cut out of all three of her tractors, halting work for three weeks.
"We got back to the field at seven o'clock in the morning after leaving at one o'clock in the night and my brother said over the radio 'we won't be doing any farming today'," she says.
"We would have finished harvest the next day."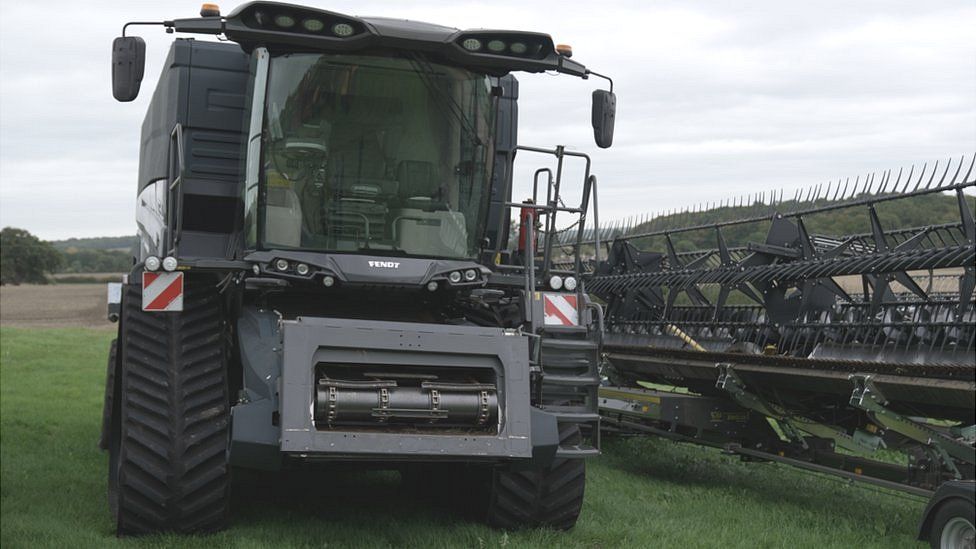 Eveey says she's since learned, through her own detective work, that more than 30 other tractors also had the components removed on farms nearby as well as in East Anglia on the same night.
She believes organised crime groups are now targeting farmers and using ports to take the equipment abroad.
"I drive the tractors at night and I'll be there in the dark on my own and I don't want to be faced with these people, it's scary," she says. "All we're trying to do is feed the nation," she adds.
Eveey says she reported the thefts immediately to the police but a forensics team wasn't sent until two days later. By the time they arrived, she had been forced to send the tractors away for repair.
Nobody has been charged for the thefts. Hertfordshire Police says officers attended the scene but the investigation was conducted by a different force.
And Eveey isn't alone. BBC analysis has found that in rural areas, 31,411 suspects were charged for 455,845 recorded crimes in 2021 – a rate of 6.89%. In urban areas, 325,727 charges were handed out for 3,809,865 offences, a rate of 8.55%.
That means the proportion of suspects being charged for offences in towns and cities is 24% higher than in the countryside, according to BBC analysis of crime outcomes broken down to local neighbourhoods.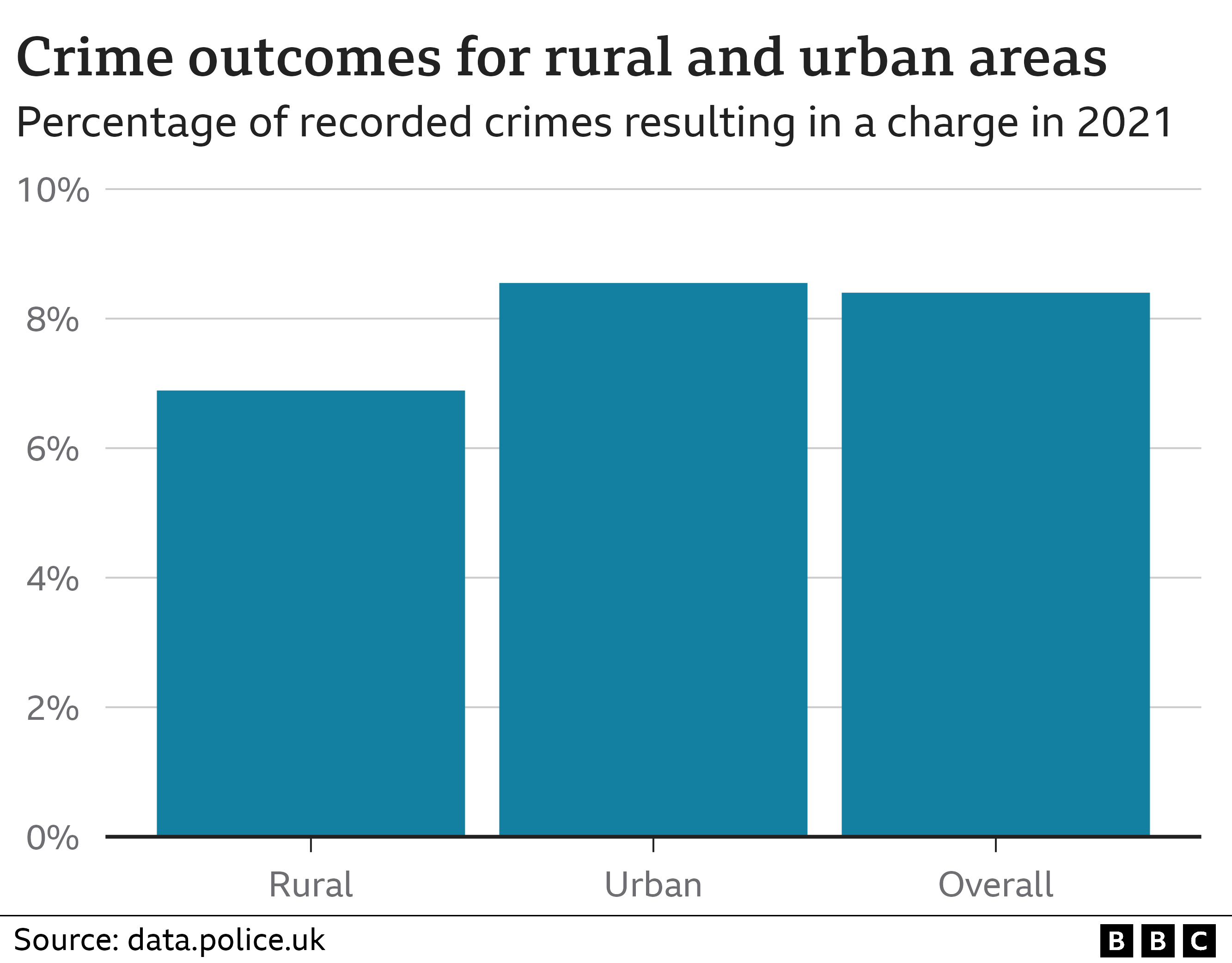 Luke Palmer says he has been the victim of 30 crimes in the last year, including burglaries, cable theft, diesel theft and fly-tipping on his farm in Cambridgeshire, but he has stopped reporting them to the police.
Recently, joyriders in one of his fields destroyed £16,000 of crops. On another occasion, a man walked on to his farm with a gun.
"I've dialled 999 and I never got the police here at all," he says.
Luke says he spends tens of thousands of pounds on improving security, including hiring expensive nightly patrols to safeguard crops.
"We feel very let down," he says. "We've got high value theft going on, and there's very few people being caught."
Cambridgeshire Police says there has only been one crime report made in the last year from the farm and it was investigated thoroughly. It said it was only able to investigate crimes that are reported to the force.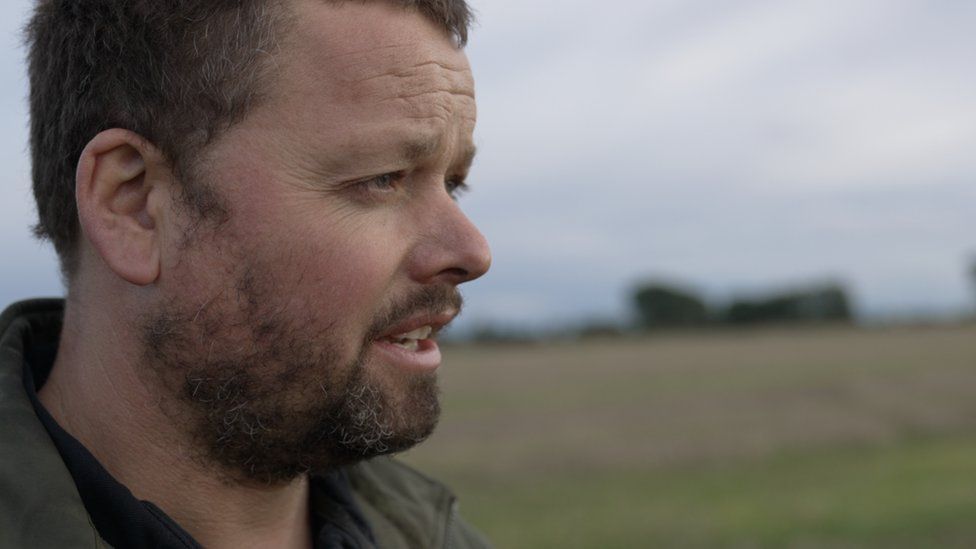 Mark Wild, who runs a security company which installs CCTV on farms, says he's amazed by what farmers now seek protection for.
"I can't keep up [with demand]. It's relentless, my phone is off the hook 24/7. This year I've now been asked to secure grain stores," he says.
Insurance company NFU Mutual says criminals have always taken advantage of the isolated nature of the countryside but farmers are increasingly facing organised crime, with agricultural machinery a particular target.
"Thieves have been turning their focus on to smaller, high-value targets including farming Global Positioning Systems (GPS) with demand from across the globe fuelling the crime wave," says rural affairs specialist Rebecca Davidson.
"Without GPS – an essential part of modern farming – harvests can be delayed, and some farmers left unable to work."
The Home Office said the rural and wildlife crime strategy, published by the National Police Chiefs' Council in September, provides a framework through which policing and its partners can work together to tackle the most prevalent threats which predominantly affect rural communities.


Have you experienced crime in a rural area? Get in touch by emailing [email protected].
Please include a contact number if you are willing to speak to a BBC journalist. You can also get in touch in the following ways:
If you are reading this page and can't see the form you will need to visit the mobile version of the BBC website to submit your question or comment or you can email us at [email protected]. Please include your name, age and location with any submission.