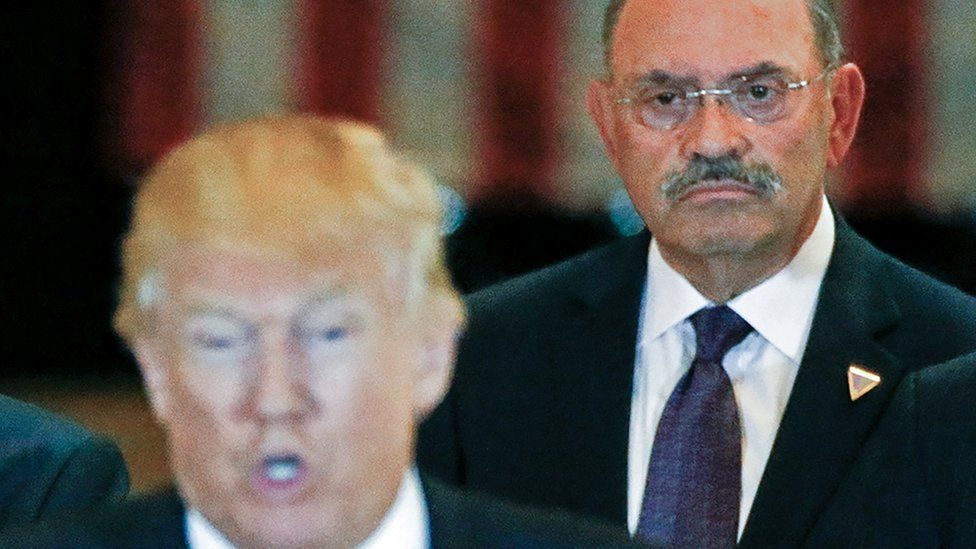 The long-time financial chief of Donald Trump's company has pleaded guilty to fraud and tax evasion charges at a New York court.
Allen Weisselberg, who served as The Trump Organization's chief financial officer, had been charged with concealing more than $1.7m (£1.4m) in off-the-books income.
He is expected to be sentenced to five months at the notorious Rikers Island jail and must pay back the owed money.
Mr Trump has not been charged.
The former president – who is not accused of wrongdoing – has described the Manhattan district attorney's criminal investigation into his family's real estate company as a witch hunt.
The case relates to a 15-year scheme that prosecutors said helped executives at The Trump Organization avoid paying taxes on corporate benefits such as rent, luxury car payments and private school fees.
The inquiry focused on whether Weisselberg and other executives received these benefits without reporting them properly on their tax returns.
And at the plea hearing on Thursday, the 75-year-old admitted his involvement in the scheme and to receiving private school tuition for his grandchildren, BMW cars and a home in Manhattan.
"[He] decided to enter a plea of guilty today to put an end to this case and the years-long legal and personal nightmares it has caused for him and his family," his lawyer said in a statement shortly after.
Weisselberg, who is seen as one of Mr Trump's most loyal business associates, worked for the former president for almost 50 years. He left his job as chief financial officer which he had held since 2005 when he was arrested last year.
The Trump Organization is also a defendant in this case and its lawyers have entered a not guilty plea.
Weisselberg must now testify against the company at a criminal trial later this year, after agreeing to a plea deal that was first reported by The New York Times.
But he refused to co-operate with prosecutors in their wider investigation into Donald Trump and his business practices, reports say.
That means any testimony he provides at the trial – which is scheduled for late October – will only relate to this case and will not implicate the former president directly.
Weisselberg had faced intense pressure from prosecutors to co-operate against Mr Trump, The New York Times reported, but resisted and accepted jail time instead.
He will be sentenced at the end of The Trump Organization trial, Judge Juan Merchan said on Thursday. He could be freed from a likely five-month sentence after 100 days if time is credited for good behaviour, a number of sources told US media.
That is far shorter than the many years in state prison he could have faced if – rather than plead guilty – he were convicted at trial.
Weisselberg's guilty plea – which legal experts suggest will strengthen the case against The Trump Organization – comes as Mr Trump is investigated on several fronts.
Just last week, he declined to answer questions as part of a separate New York state investigation into his family's business practices. That inquiry is a civil one, meaning it will not result in criminal charges.
Mr Trump, who denies wrongdoing, had sued in an effort to block the interview at the attorney general's office. But the questioning lasted around four hours and Mr Trump – who invoked his Fifth Amendment rights – said "same answer" throughout.
"[This is] unlikely to have any real impact on Trump personally," Joseph Moreno, a former federal prosecutor, told the BBC. "Weisselberg is obligated to testify against the Trump Organization if called, so that could lead to trouble, but if anything probably civil not criminal."
There are also separate investigations into the former president's handling of classified documents – which led the FBI to search his Florida home – and others related to his efforts to undermine the result of the 2020 presidential election.