The Saky base in the west of Russian-ruled Crimea was rocked by a string of blasts on Tuesday, killing one person.
The blasts led to the loss of eight Russian combat jets, the MoD said in its daily intelligence update.
The cause of the blasts is unclear, but at least five fighter-bombers and three multi-role jets were "almost certainly destroyed or seriously damaged", the statement says.
The loss of eight combat jets will make only a minor dent in Moscow's overall fleet of aircraft, but will be a significant setback to the Russian Navy's Black Sea fleet, it says.
"The fleet's naval aviation capability is now significantly degraded," the ministry adds.
The Saky fleet is used to engage Ukrainian fighters in southern Ukraine and probably carries out assessment work further east.
Some of the bombers travelled from the base to Mariupol, the port city largely destroyed by Russian shelling, before it fell into Moscow's hands in May.
Russia denied that any of its aircraft were damaged in the blasts, but satellite images suggest otherwise.
Before and after satellite images: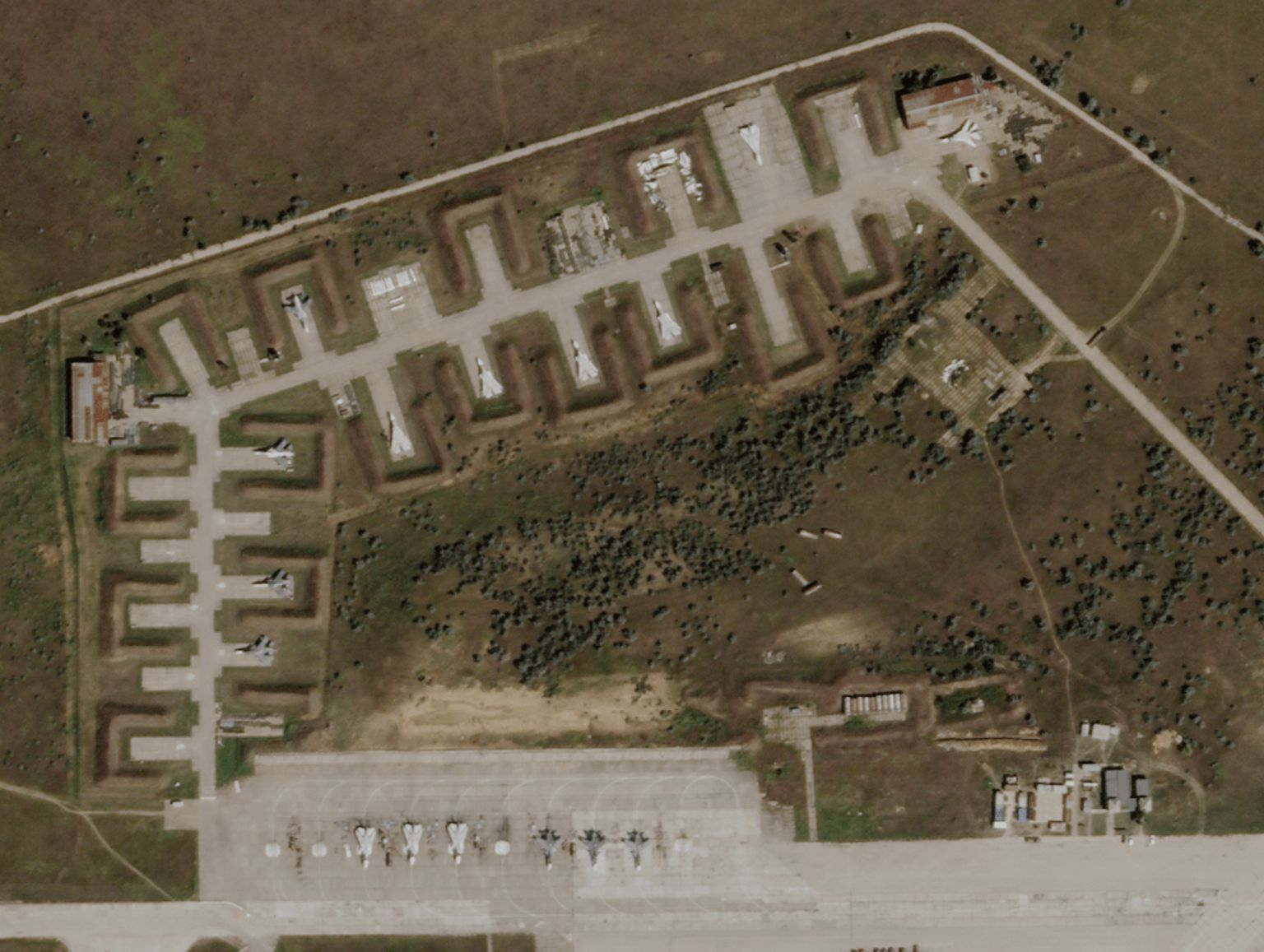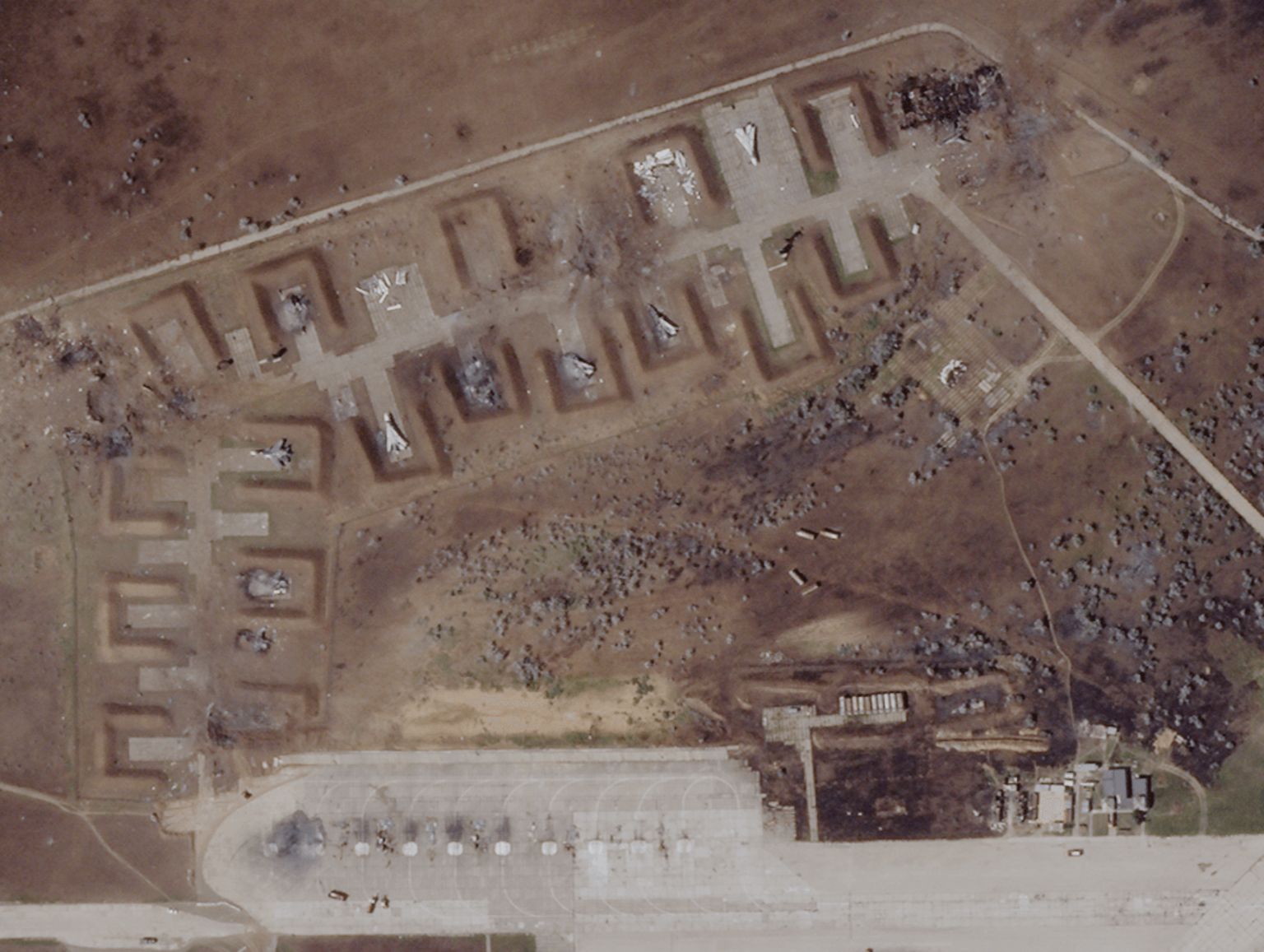 Ukraine said it struck the vessel with its Neptune missiles, while Moscow claimed ammunition on board exploded in an unexplained fire.
Ukrainian President Volodymyr Zelensky has told officials to stop talking to reporters about Kyiv's military tactics in the wake of the Crimea blasts.
The New York Times and Washington Post have cited unidentified officials as saying Ukrainian forces were responsible, but its defence minister has suggested that careless Russian soldiers could be to blame.
"War is definitely not the time for vanity and loud statements. The fewer details you divulge about our defence plans, the better it will be for the implementation of those defence plans," Mr Zelensky said in an evening address.
Any attack by Ukraine inside Crimea would be seen as an escalation of the war. Russia sounded a warning last month when ex-President Dmitry Medvedev threatened that "Judgement Day will instantly await" if Ukraine targeted Crimea.
Aside from Crimea, Mr Zelensky urged the international community to act immediately to "chase out" Russian troops from the occupied Zaporizhzhia nuclear plant – the biggest in Europe.
Ukrainian officials accused Russians of continuing on Friday to shell towns across the Dnipro River from the plant.
"Only the Russians' full withdrawal… would guarantee nuclear safety for all of Europe," he added, condemning "Russian nuclear blackmail".
Local officials said on Friday that Russian shelling of a Ukrainian-controlled town on the opposite bank of the Dnipro River. directly facing the nuclear plant, had left three people injured.
Elsewhere, the Turkish defence ministry says the first shipment of Ukrainian wheat to leave the country since Russia's invasion has set sail bound for Turkey. It was one of two ships to leave Ukraine's Black Sea ports on Friday.
A total of 14 ships have made it past Russia's naval blockade under a UN-brokered deal with Moscow.