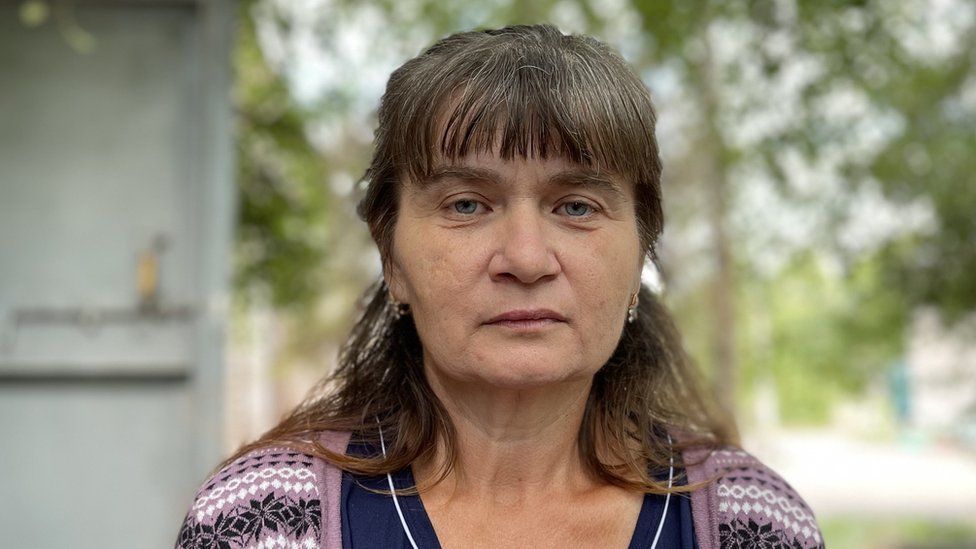 Natalia's face lights up as she recalls the moment of her liberation – when the hated occupiers were forced from her village, Novovoznesenske, in the southern region of Kherson.
She farmed there in peace and quiet until the Russians arrived on 29 March. What they did not destroy, they stole, she says, including forks and spoons, and the shoes from a pensioner's feet.
"They were a rabble," she tells me, wringing her hands as she relives her trauma.
Freedom finally came on 2 September.
"When our armed forces arrived, we were in the basement," says the 50-year-old.
"They asked, in Ukrainian, 'is anyone alive?' and I realised they were ours. They were so handsome, so beautiful especially compared to the fascists [her term for Russian forces].
"I didn't know what to do with them – if I should hug them or hold their hands? I touched them and I was very happy."
After months of deadlock, Ukrainians – and Russians – are facing a new reality. Suddenly there is momentum in the largest conflict in Europe since World War Two.
Ukrainian forces have advanced, and Russian forces have beaten a hasty retreat – critically from strategic locations in the eastern region of Kharkiv. They have lost the cities of Kupiansk, a crucial logistics hub, and Izyum, a launchpad for attacks.
"The Russian army is rushing to get famous as the fastest army in the world," wrote Andriy Yermak – chief of staff for President Volodymyr Zelensky – on Twitter. "Keep running".
Social media here has been flooded with images of abandoned or destroyed Russian positions, and Ukrainian forces raising their flag in newly liberated areas.
The speed – and breadth – of the counter-offensive has surprised the occupiers, and many Ukrainians. One Ukrainian colleague pronounced himself "shocked, pleasantly so".
"We needed a loud victory to cheer us up," he says, "and it looks like there is a domino effect in Kharkiv. But they still have weapons and troops and lots of our territory. People still understand who our neighbour is. But there's less fear and more confidence."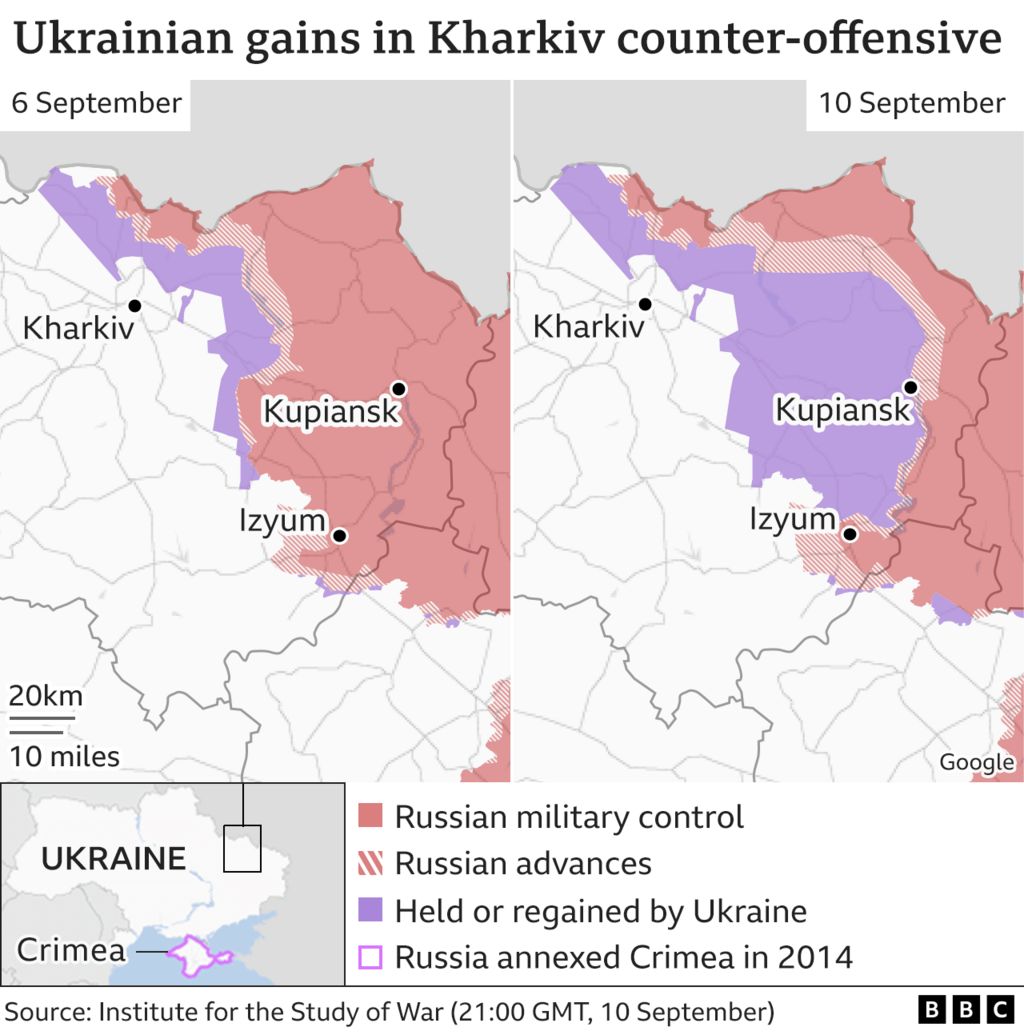 The advances have given a war-torn nation a shot in the arm, after grinding losses over the summer in the Donbas region.
When we reported from there in June there was no indication that Ukrainian forces might be able to mount such a strong counterattack. "It's a military miracle," says Mykhailo, a 38-year-old IT engineer.
The "miracle" has been achieved with plenty of foreign weaponry – including long-range multiple rocket launch systems – and foreign intelligence.
It also looks like the Ukrainians outsmarted the Russians, not for the first time, by talking up plans to counter-attack in the southern Kherson region.
The Kremlin appears to have taken the bait, redeploying some forces there, leaving their positions in Kharkiv dangerously exposed.
But the offensive has also shown that the Ukrainians can beat the Russians on the battlefield, according to Western military experts.
"We are now seeing the Russians being defeated, not just outmanoeuvred," says Professor Michael Clarke, former Director of the Royal United Services Institute. He views this as "an early turning point".
On Saturday, President Zelensky said his country's armed forces had recovered around 2,000 sq km (770 square miles) since the beginning of September. On Sunday morning, the army put it even higher, at 3,000 sq km.
For now, journalists – including those from the BBC – are being kept away from the frontlines. We cannot verify all of Ukraine's claims – but Russia admits its troops have withdrawn from parts of Kharkiv, claiming they were "regrouped" rather than driven out.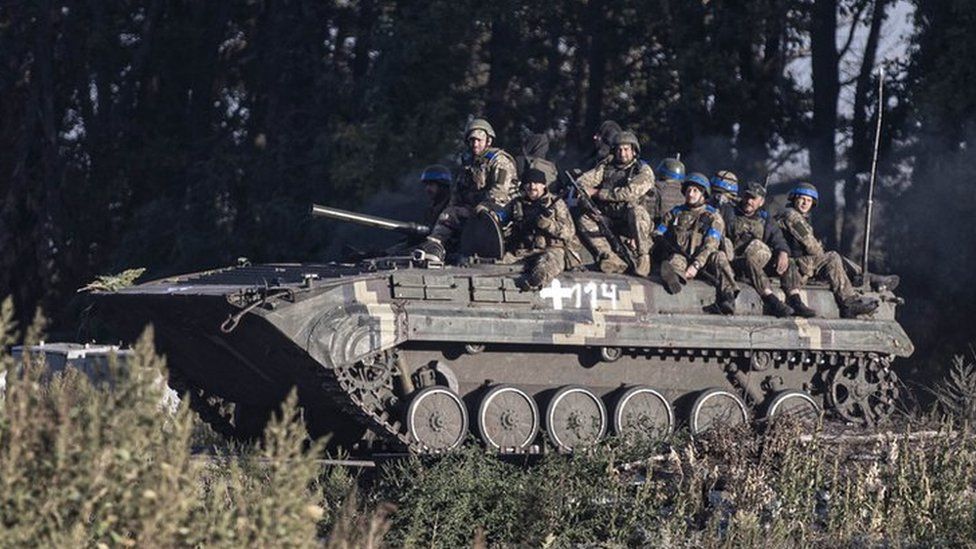 Despite Ukraine's recent progress, the Russians still hold around a fifth of Ukraine – including the city of Kherson.
It was the first major Ukrainian city to fall after the invasion and is just north of the Crimean peninsula (held by Russia since 2014).
We managed to reach a woman still living there – who says the Russians are starting to lie low. For her protection we are not naming her.
"Over the past two or three days, the military seem to have quietened down a bit," she tells us.
"They are less visible in cafes and restaurants. If street fighting starts it will be very dangerous. But I will sit in the basement for days or weeks if needs be. I want to see our army here and thank them. I want to see the victory."
Also waiting for victory is a network of activists inside the city, who are resisting the Russians. They gather intelligence on military positions and pass this to Ukrainian forces.
A member of the resistance – who we cannot identify – told us they are being hunted.
"The Russians are finding places where photos are being taken," he says. "There are mass searches of flats close to strategic vantage points. There have been two cases in the past week when people were taken from the streets."
But he says the news from the frontline is bringing hope. "People are now very encouraged by the advance around Kharkiv," he told us. "Many hope that we will be next."
Kherson city is a critical battle to come, but the advances so far have been cathartic for Ukraine and reassuring for its Western backers. If the gains are held, this could change the arc of the conflict.
No one expects President Putin to throw in the towel. When it comes to Ukraine, he takes the long (and obsessional) view.
But in places Russia's frontlines have completely collapsed and its troops have fled. That's not just a defeat. It's a humiliation.