While countries around the world are considering building a secure, reliable, and cost-effective infrastructure for 5G networks, two companies in the UK have developed a novel way to use drones.
Engineering firm Cambridge Consultants and telecommunications company Stratospheric Platforms Limited (SPL) claim to have found a solution to provide faster Intenet connection. The new proof-of-concept could see 5G beams broadcast from the skies thanks to antennas fitted onto drones flying some 20,000 meters above the ground.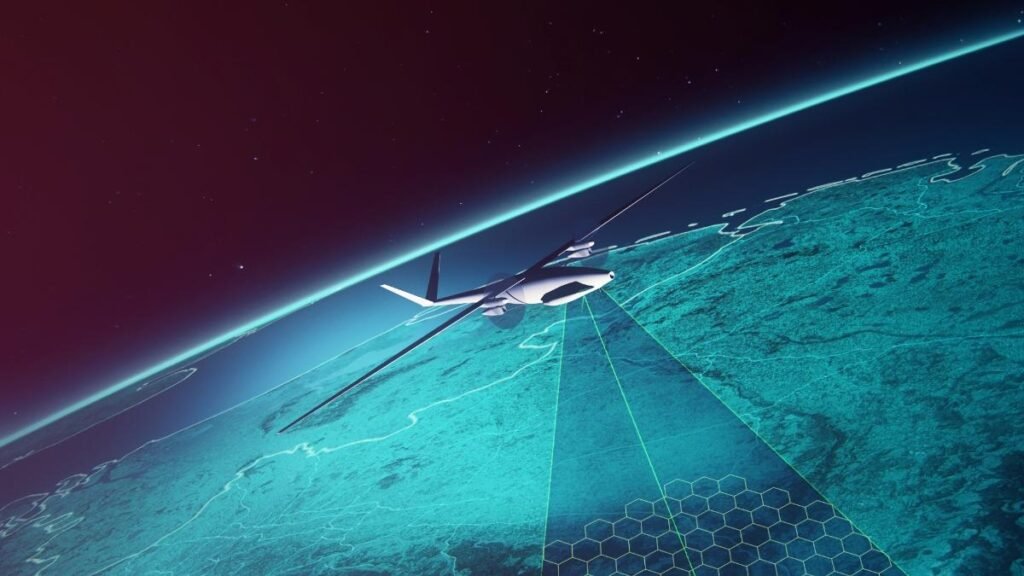 Using space to deliver faster internet isn't a novelty, Starlink from Elion Mask is a globe-encircling network of internet-beaming satellites which are trying to get everyone online no matter where you are in the world.
Their prototype tested so far is only one-eighth of the size envisaged, but the companies hope the final product will come with three square meters of antennas that can radiate 5G data at speeds of up to 100 gigabits per second (Gbps). The antennas will be integrated into an emission-free aircraft powered by hydrogen, which can carry the equipment for nine consecutive days.
According to Cambridge Consultants, a fleet of 60 aircraft with the antennas would be able to provide a 5G connection in the UK that would deliver consistent speeds of up to 100Gbps across the country.
SP has been quietly working on a platform for communication with Earth since 2014. To this end, the company has developed a hydrogen-powered aircraft that can be equipped with telecommunications equipment and essentially acts as a stratospheric telecommunications mast.
The aircraft can carry a maximum payload of 140 kilograms, which means that the 5G antenna must be slimmed down as much as possible. Engineers from Cambridge Consultants intervened and developed an ultra-thin antenna weighing 120 kilograms, which the company calls a breakthrough in radio design.
Working with a talented team at Cambridge Consultants has been one of the highlights of our program so far. Richard Deakin, CEP – SPL, said: "It was critical to meet the challenges of delivering enormous data rates in an environment where weight is critical, performance is limited and cooling in thin stratospheric air is difficult. All antenna developments and tests met or exceeded our design criteria.
The 1:1 scale antenna is designed to generate 480 individual beams directed at different points on the Earth's surface. The beams are steerable and can be shaped into patterns to coat certain areas with 5G, such as certain roads or waterways.
This could be particularly useful for connecting remote and remote areas that are too far away for rural network operators, such as in remote regions of Africa or the Middle East.
So far, SPL is testing a version of this technology in partnership with Deutsche Telekom. The 5G prototype is a remote-controlled aircraft that can be integrated into your terrestrial network to provide fast, low latency and high bandwidth connection. Previously, tests were conducted with antennas designed to transmit LTE (4G) data, but the reconfiguration of the beam allows the use of different antennas to ensure coverage exactly where it is needed. A single antenna with a properly shaped beam, for example, would be able to power the 188-kilometre M25 motorway in the UK.
If the system is built on a scale, SPL and Cambridge Consultants estimate that the technology could connect more than 500 million people without maintaining the hundreds of ground-based masts needed to operate a single stratospheric antenna. The next step is 5G, with the first commercial service set to launch in Germany in 2024, SPL confirmed. Dr. David O'Brien, Chief Technology Officer at SPL, said: "Our experience in the development and construction of mega cell towers in the stratosphere has brought us one breakthrough after another and we are excited to build on this innovation with SPL as we move towards commercial use."
The British company's technology has its roots in Project Loon, initiated by X, a former Google subsidiary now called X-Net, which lets balloons float in the stratosphere to provide Internet access to underserved areas. This year it has launched 35 balloons in East African countries and provides broadband services to more than 1.5 million people in Africa, Asia and the Middle East. Cambridge Consultants confirmed that the aircraft has been certified for safe flight in civil airspace, but challenges remain, particularly with regard to regulation. Several countries have their own specific rules for air transport and the issuing of permits could be one of the biggest obstacles for the future.
Facebook launched a similar project a few years ago to build a fleet of high-altitude drones that would have connected remote areas, but the social media giant abandoned the initiative, citing increased investment in competing space projects. Loon has also secured funding from the U.S. Defense Advanced Research Projects Agency (DARPA).