What Wi-Fi version do you currently carry? Many people won't be able to answer this question as very few people care to remember a long 808 number that identifies their Wi-Fi system. The start of 2019 has not only seen the introduction of a new Wi-Fi version number systems but will also see the introduction of the brand-new Wi-Fi 6.

What will Wi-Fi 6 bring?
Higher Speeds
Unsurprisingly Wi-Fi 6 will bring enhanced speeds. The previous Wi-Fi 5, released in 2014, saw speeds of up to 866 Mbps. While Wi-Fi 6 is expected to achieve 1201Mbps, not that much of an increase compared to the 300% jump from WiFi 4 to 5. However, like the . historic Wi-Fi systems there are variables that restrict the achievable speed. These include the distance from the Router, objects blocking the signal, and the quality of your access device. So, the numbers above don't signify the speed you will actually obtain but the hypothetical maximum.
Higher Efficiency
Wi-Fi 6 is set to give you increased efficiency through a feature called OFDMA (Orthogonal Frequency Division Multiple Access). This works by "cutting up" every wireless channel into smaller partial channels which allows up to 30 different devices to talk to the access point all at once over a single channel. This gives the access device more flexibility allowing to allocate bandwidth back to each device depending on its needs. This should increase performance overall.
OFDMA also works in tandem with multi-user MIMO (Multiple In/Multiple Out), a system of multiple antennas, allowing an access point to address multiple devices simultaneously and not sequentially, one at a time like older systems did.
Greater Streaming
We've all heard shouts of "Get off the Wi-Fi" when your favourite Netflix show is not streaming properly. It is common knowledge that when you're in a crowded place, with a lot of Wi-Fi enabled devices, connection tends to be slow and sometimes useless. Wi-Fi 6 improves on multi-user MIMO by allowing 8 simultaneous streams instead of 4 and also enabling uploads and downloads. This will allow one to upload pictures faster in crowded places like a concert, airport, or school. This also can apply to your home where you may have multiple devices linked to your Wi-Fi.
In the past, wireless signals would often get in the way of each other, causing interference and poor speeds, but with Wi-Fi 6 you have a BSS (Basic Service Set), which identifies a different "colour" for each signal. This means that the access point can ignore the incorrect signals and transmit the original signal on the correct channel. In theory, this should significantly improve Wi-Fi capabilities in congested areas.
Longer Battery Life
Your Wi-Fi enabled devices like your smartphone and laptop should save battery life due to its new feature "target wake time" (TWT). The access point will be able to talk to your device and tell it exactly when to put its Wi-Fi radio to sleep and exactly when to wake it up to receive the next transmission. This will save power, as the Wi-Fi radio will be on sleep mode for a longer time. Meaning a longer battery life.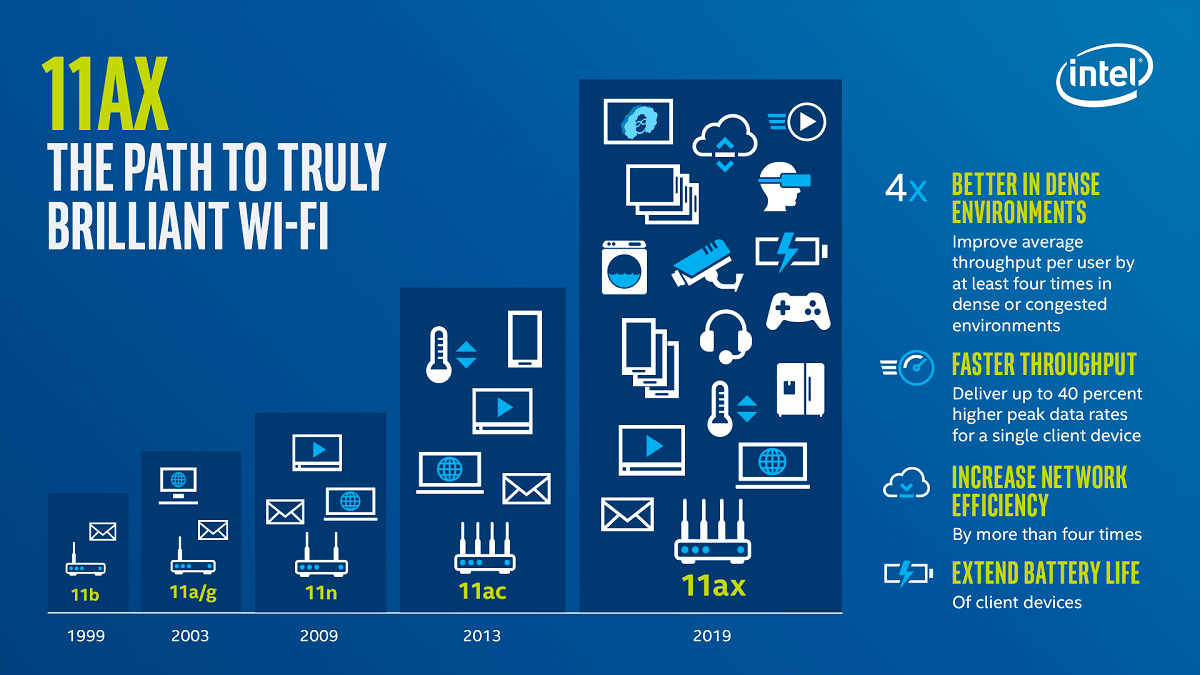 How can you obtain Wi-Fi 6? 
Currently, Wi-Fi 6 is only available through a few suppliers including the Netgear with their Nighthawk AX8 8-Stream and Asus' AX6000. However, both the sender and receiver must obtain the support of the latest generation of Wi-Fi for it to receive all the benefits. Therefore, you won't get the full experience of Wi-Fi 6 just yet because there aren't any devices with that capability right now. If you do connect your smartphone that only supports Wi-Fi 5 to your Wi-Fi 6 router that operation will still connect just under Wi-Fi 5 mode.
With significant improvements promised, it will be interesting to see when Wi-Fi 6 hits the mainstream and becomes the new standard in wireless access.